If your decorating style is more glamorous than traditional, then you may like to decorate with glam Christmas decor as well. We found 15 gorgeous glam Christmas decorations that will elevate your Christmas decor. From sparkling Christmas ornaments to gorgeous beaded pillows, your home will look extra glam this year with these decorations.
15 Gorgeous Glam Christmas Decorations
1. Beaded Tree Topper
TJ Maxx | $9.99
The gorgeous beaded tree topper is the perfect addition to a glam Christmas tree.
2. Glass Trees
Pottery Barn | $29.50 – $69
These glass trees are very chic. They come in multiple sizes so that you can create a tree display if you'd like.
3. Gold & Silver Ornament Pine Decor
Pottery Barn | $39.50 – $199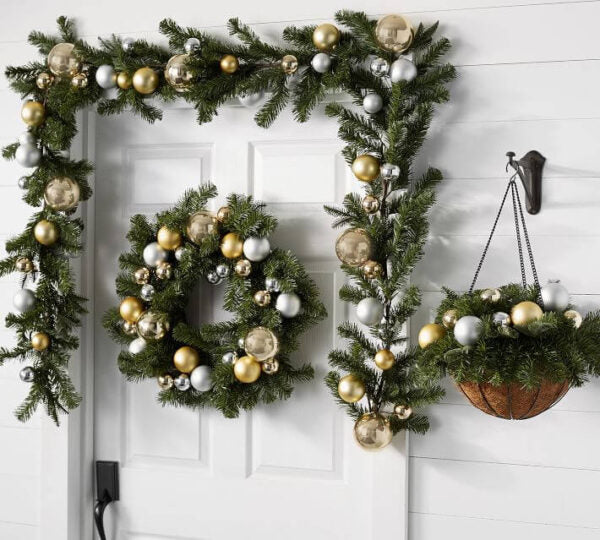 Nothing is more glam then metallics. This gold and silver ornament pine decor is available as a wreath, a garland or a basket.
4. Beaded Snowflake Stockings
Pottery Barn | $49.50
Add a glam factor to your Christmas stockings. These stockings are beaded with snowflakes and can be personalized with a name or monogram.
5. Sparkle Snowflake Pillow Cover
Pottery Barn | $59.50
This lovely beaded snowflake pillow will add some glam to your couch.
6. Beaded Snowflake Silver Tree Skirt
Pier 1 | $69.99
This gorgeous beaded tree skirt is extra glam. It's the perfect accent to a glam tree.
7. Peace on Earth Embroidered Place Mats
TJ Maxx | $6.99
This set of place mats is embroidered in gold with the phrase 'Peace on Earth'. They are the perfect glam dining table decor.
8. Merry & Bright Stocking Holder
TJ Maxx | $24.99
This glam merry and bright stocking holder is perfect to hold your Christmas stockings if you don't have a fireplace.
9. Frosted Snowflake Ornament
Pier 1 | $9.99
This frosted snowflake ornament is hand painted and handblown. It includes glittery glam snowflakes.
10. Kate Spade Merry Bright Glass Set
Wayfair | $50.00
Drink your holiday themed drinks with this set of glasses by Kate Spade. Both glasses are inscribed in gold.
11. Snowflake Marble Serving Tray
Nordstrom | $69.99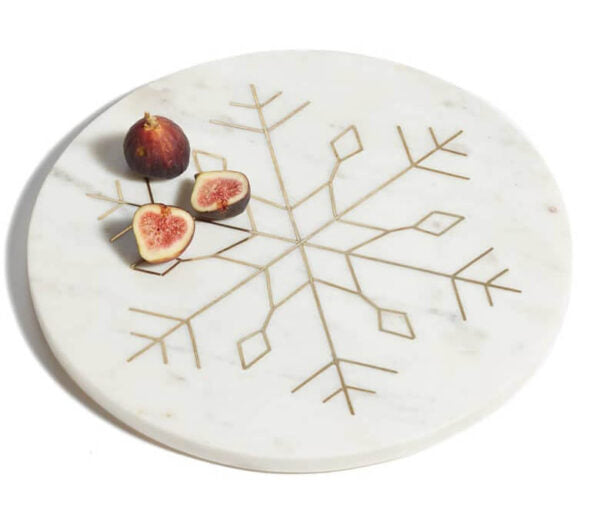 Use this festive marble serving tray at a holiday party or any other holiday get together.
12. Champagne Ornament Set
Target | $20.00
This 40 piece set of champagne colored hanging ornaments has fun shapes, finishes and textures to add a dash of elegance and dazzle to your Christmas decor.
13. Gold and Silver Trees Decorative Pillow
Pier 1 | $19.99
This festive glam pillow has three beaded tress in gold and silver.
14. Light-Up Silver Glass Trees
Pier 1 | $19.99 – $24.99
These handcrafted glass trees feature a traditional star topper and an LED for illuminating holiday evenings.
15. Shimmer Snowflake Embroidered Table Runner
Wayfair | $25.99
This shimmer snowflake table runner will help you set the dinner table in style. It includes cutwork snowflakes and shimmery embroidery.