With Halloween right around the corner, it's time to plan out your Halloween spread. Whether you are having a Halloween Party or just staying home with a scary movie, you are sure to love these Halloween desserts. Read on to get 12 Halloween desserts that are hauntingly good.
12 Halloween Desserts That Are Hauntingly Good
1. Rice Krispie Treat Monsters
These rice crispy treat monsters are easy to make. Since they are super easy to make, these are great to make with kids. Kids will love helping you put the candy eyes on the monsters. (via One Little Project)
SHOP:
Candy Melts | Candy Eyes | Rice Krispies
2. Candy Corn Cheesecake Mousse
If you love cheesecake, then you will love these cheesecake mousse cups that look like candy corn. If you don't like candy corn don't worry, they don't taste like candy corn. (via Glorious Treats)
3. Pumpkin Oreos
These pumpkin Oreos are another Halloween dessert that you can make with kids. You can make them goofy, funny or scary depending on how you decorate them. (via Lil Luna)
SHOP:
Candy Melts | Candy Eyes | Oreos
4. Ghosts in the Graveyard Chocolate Pudding Cups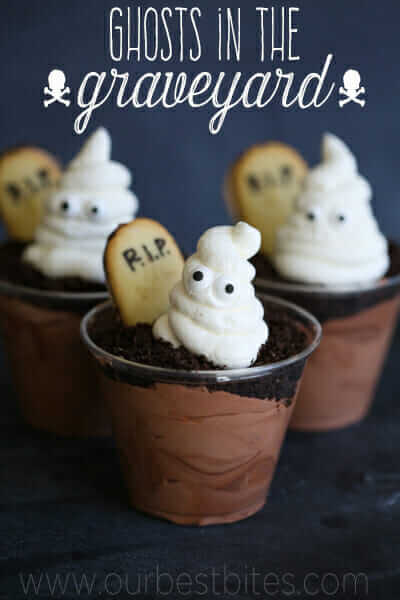 These ghosts in a graveyard pudding cups are perfect to serve at a Halloween party. They are made with chocolate pudding and served in individual cups. (via Our Best Bites)
SHOP:
Chocolate Pudding | Candy Eyes | Milanos | Oreos
5. Bat Bites
These little bat bites are made from only four ingredients. They are easy to make and your guests will love them. (via Chelsea's Messy Apron)
SHOP:
 Candy Eyes | Peanut Butter Cups | Oreos
6. Creepy Halloween Candy Bark
This Halloween candy bark is super easy to make. It only takes around 10 minutes! (via Savvy Saving Couple)
SHOP:
Candy Melts | Candy Eyes | Sprinkles
7. Frankenstein Marshmallow Pops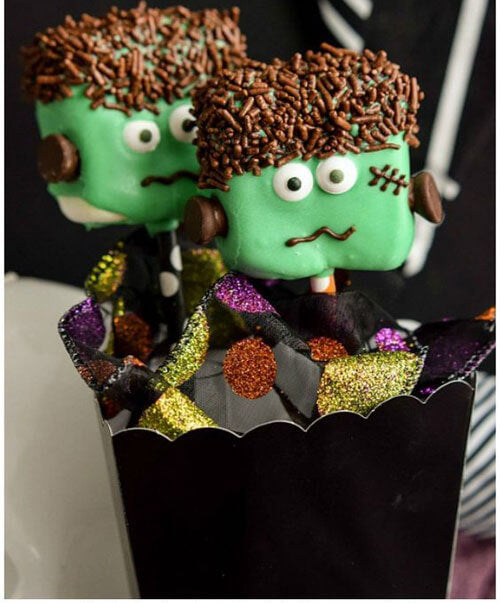 These Frankenstein marshmallow pops are hauntingly  adorable. (via Well Chopped)
SHOP:
Candy Melts | Candy Eyes | Sprinkles
8. Monster Cookies
These monster cookies are spooky and adorable. (via Tell Love and Party)
9. Halloween Caramel Pretzel Bites
Make a Halloween treat that is both salty and sweet. These caramel pretzel bites are both. (via Cupcake Diaries)
SHOP:
Candy Melts | Sprinkles | Pretzels
10. Monster Berries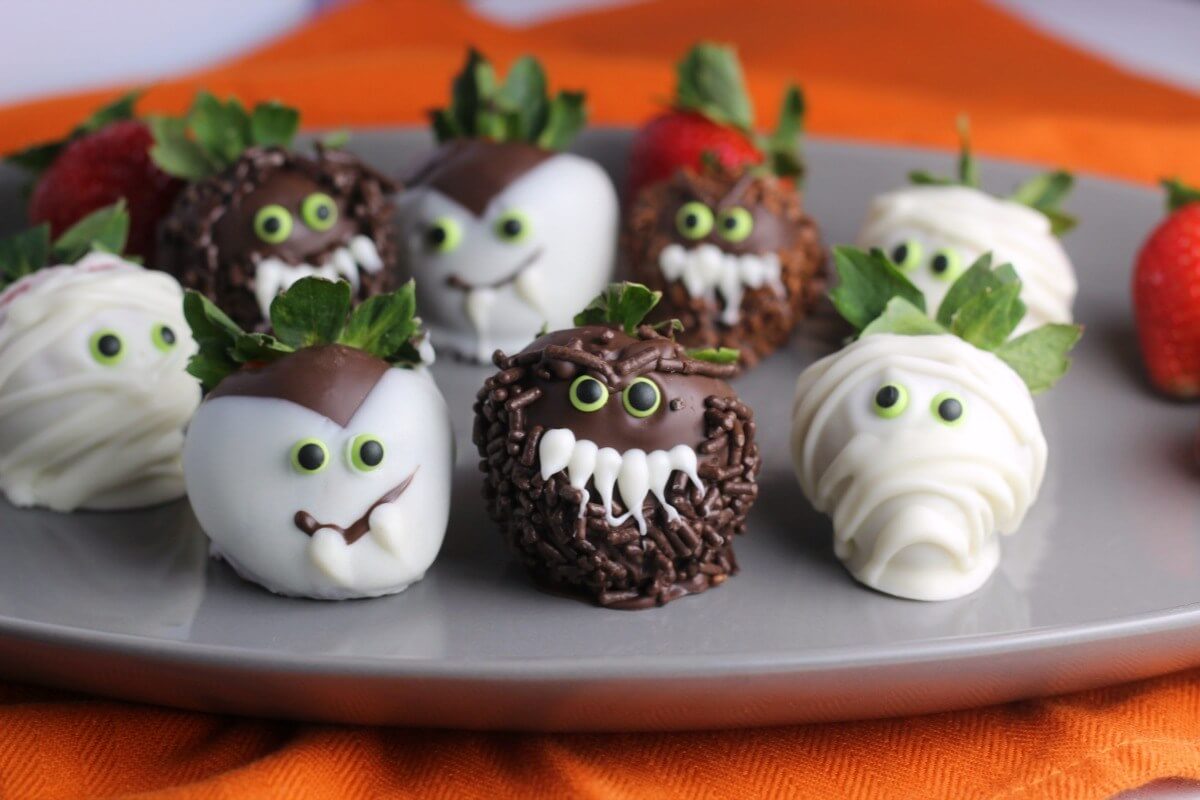 These chocolate covered monster berries are sure to frighten and delight. (via ABCs and Garden Peas)
SHOP:
Candy Melts | Candy Eyes | Sprinkles
11. Chocolate Caramel Pretzel Monsters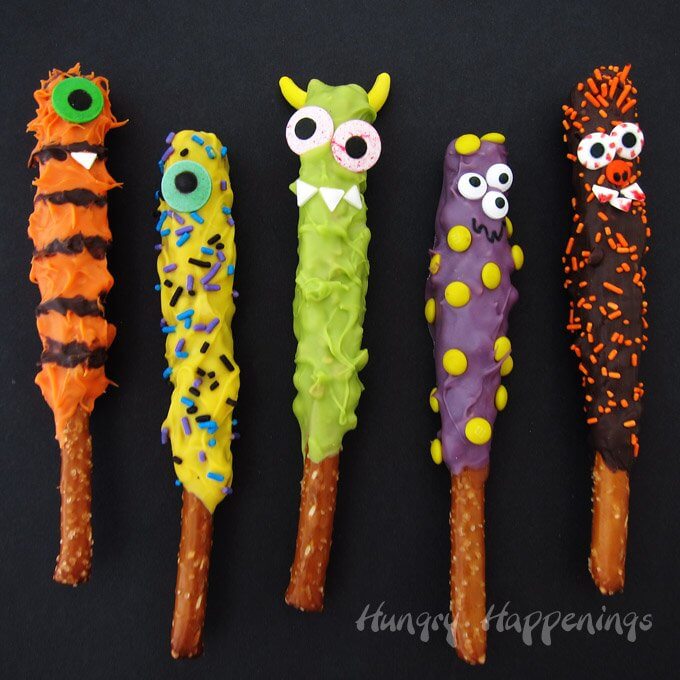 Anyone will be spooked by these caramel monster pretzels. (via Hungry Happenings)
SHOP:
Candy Melts | Candy Eyes | Pretzel Rods | Sprinkles
12. Spideweb Cookie Cake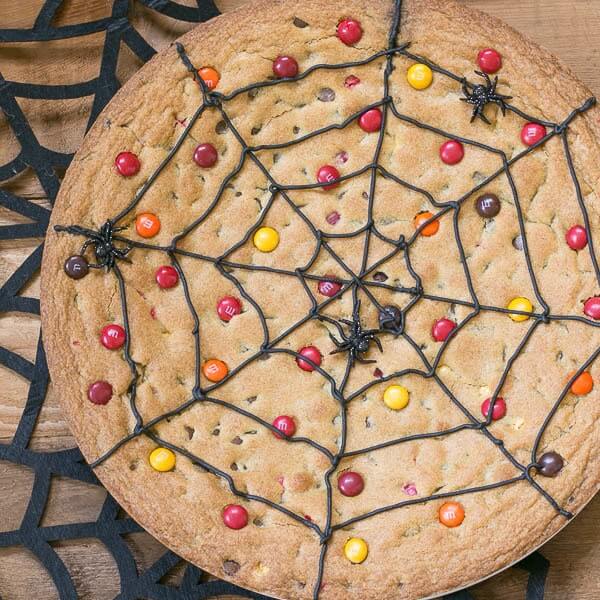 This spider web cookie cake is perfect for a Halloween party. It's a good size to serve quite a few people. (via That Skinny Chick Can Bake)
Be sure to follow us on Pinterest for more spooky Halloween desserts!